THE SANTA EXPERIENCE
PRODUCT GUIDE
Imagine a Place Where Christmas Magic Exists…
The Santa Claus Experience will be the highlight of your child's holiday season.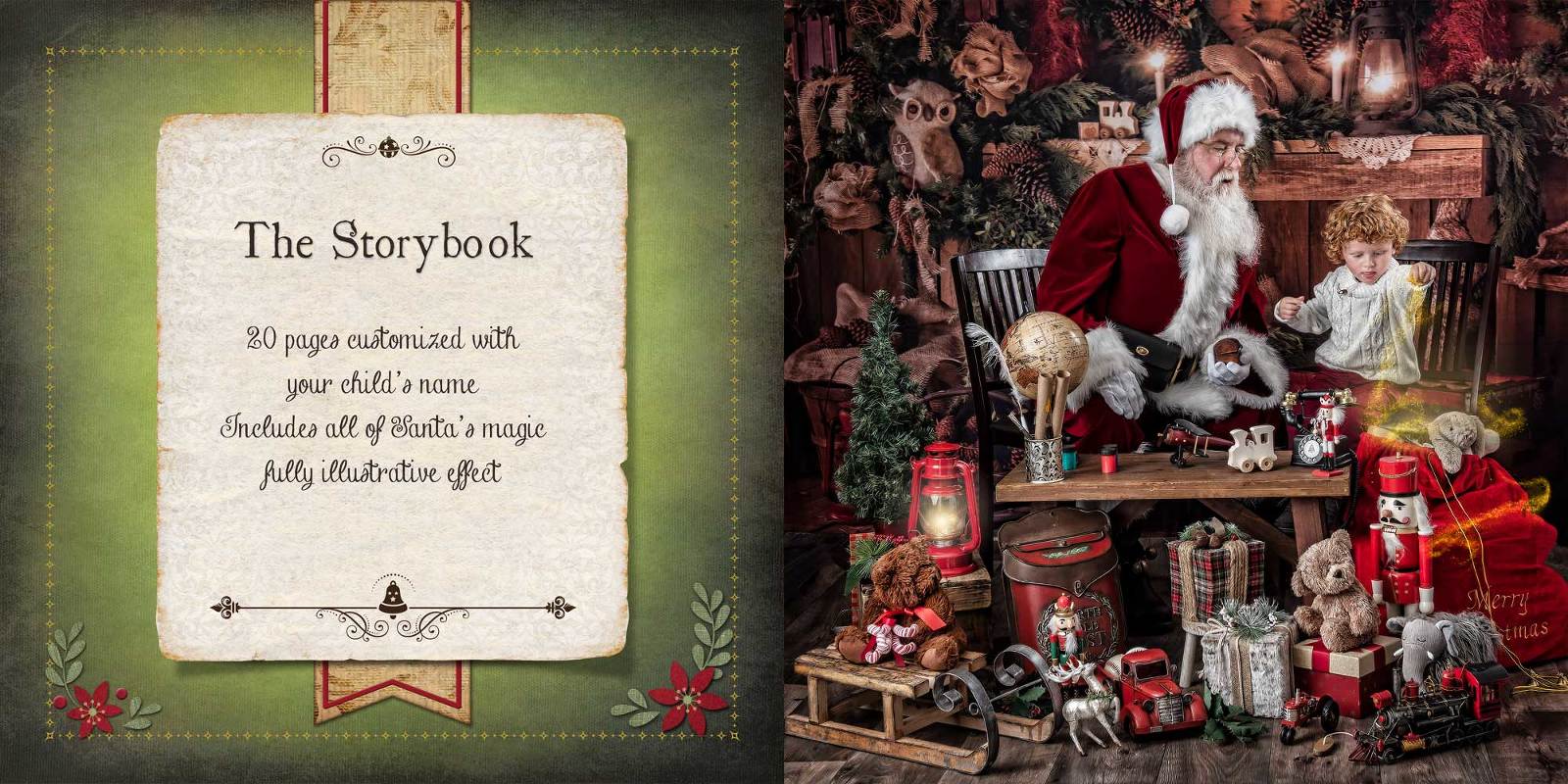 20 customized pages
12 different poses
10×10 Fine Art Leather or Red Velvet Album (hard pages) $1295
8×8 press Printed Storybook (thin pages)  $795 
5×5 Grandparents Storybook $495 (after 8×8 or 10×10 is purchased-duplicate)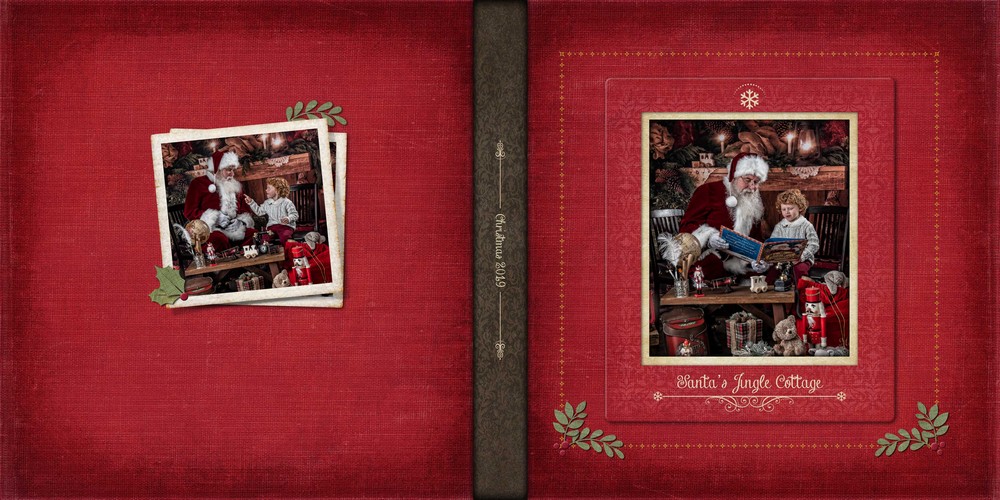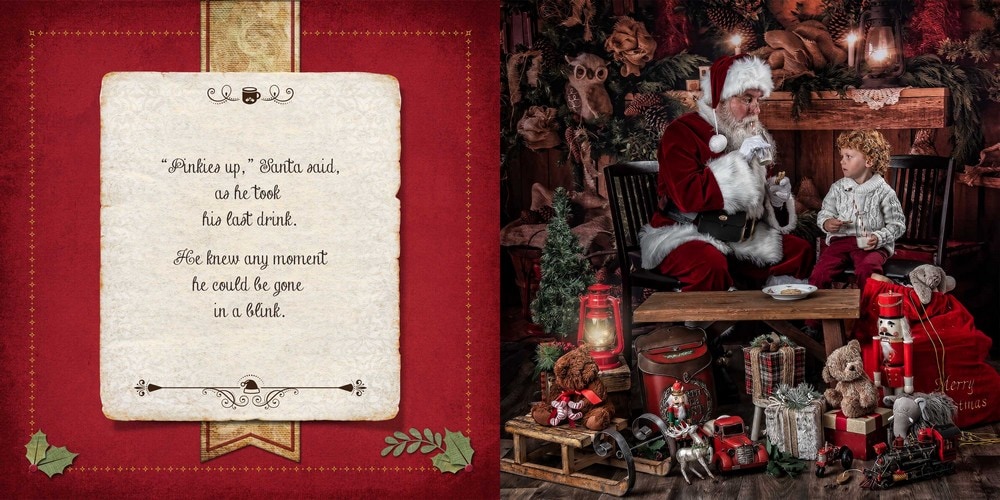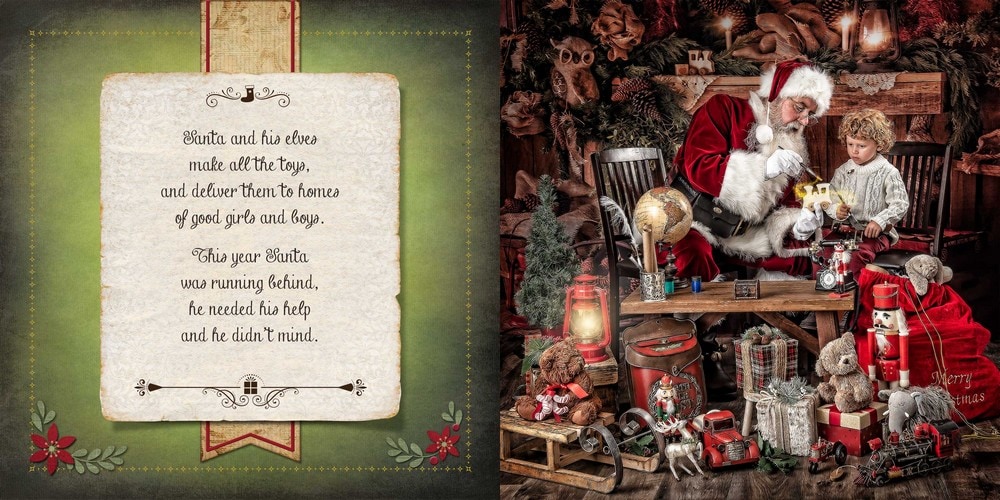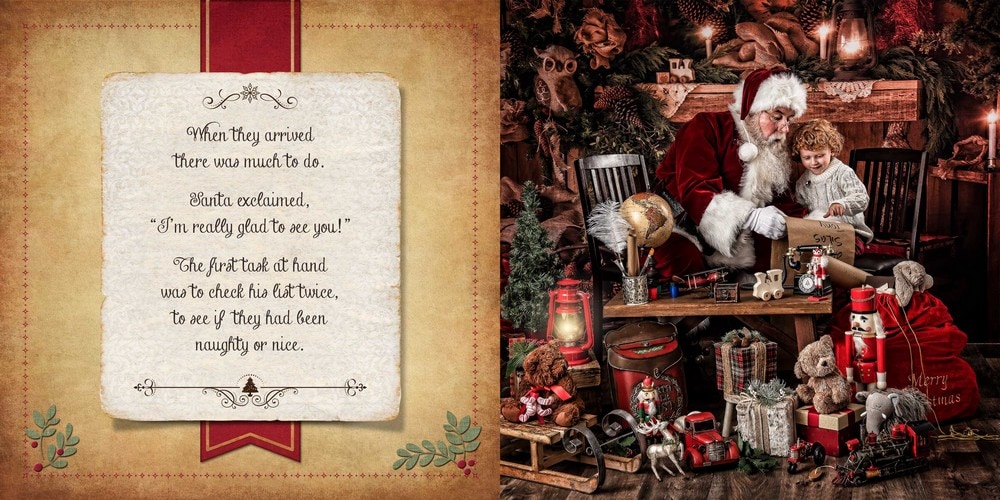 Beautifully Finished 24×30 thin canvas wrap – No Frame Needed!
The Mantel Piece can be displayed as part of your holiday decoration.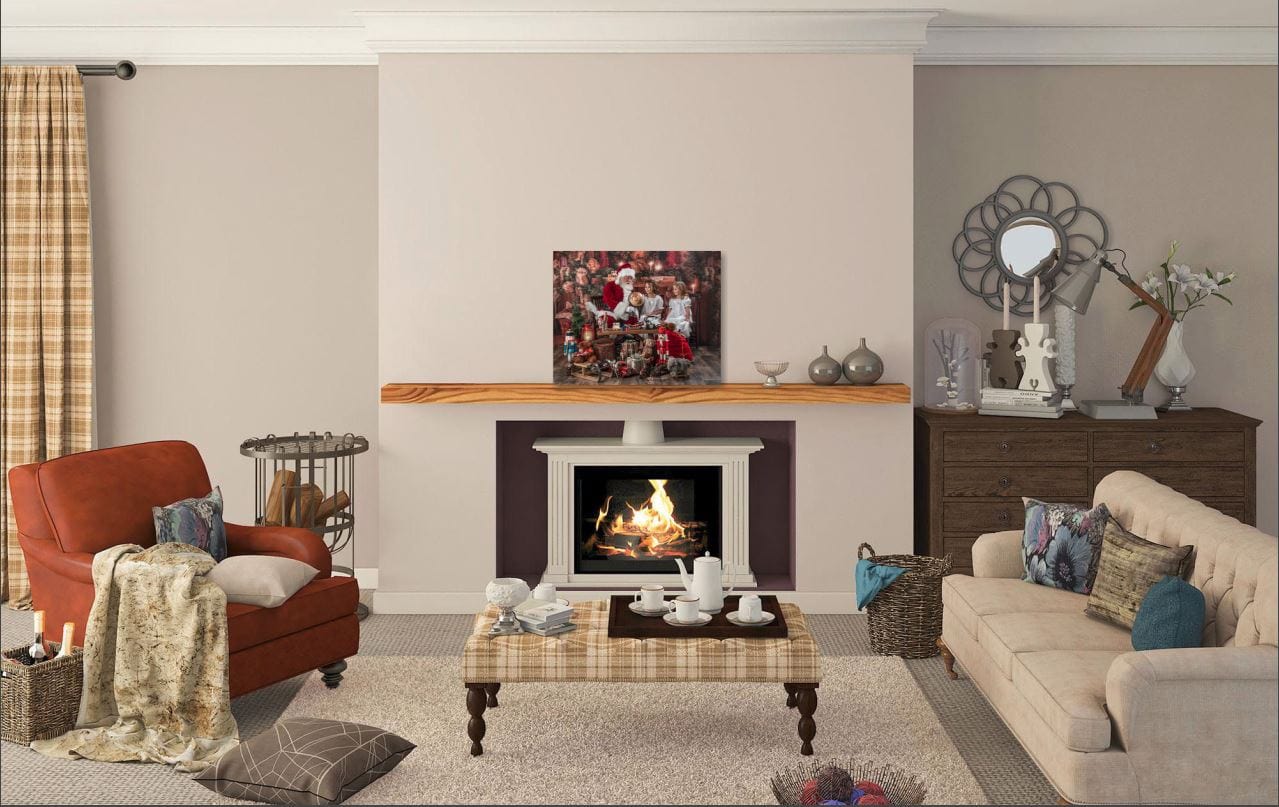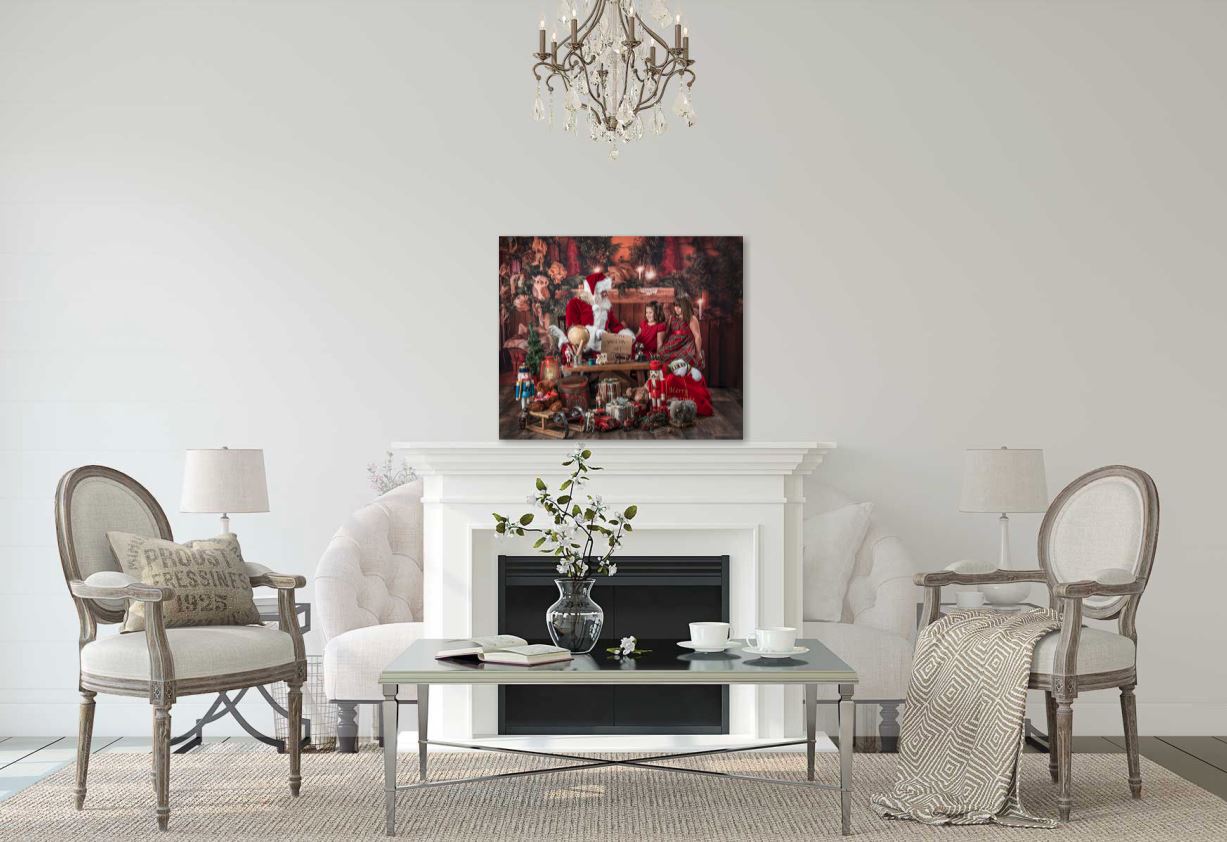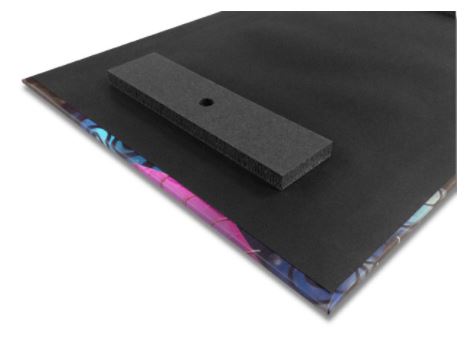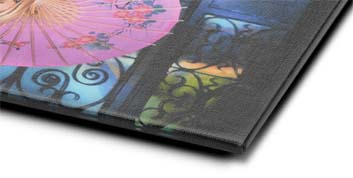 24×30 ThinWrap Canvas
The image is printed on a fine art canvas material, then laminate with a soft Satin Laminate. For a striking effect, we apply a spacer (Float Mounting Block) to the back of the ThinWrap, which allows the image to be hung and appear to float from the wall. 
$1090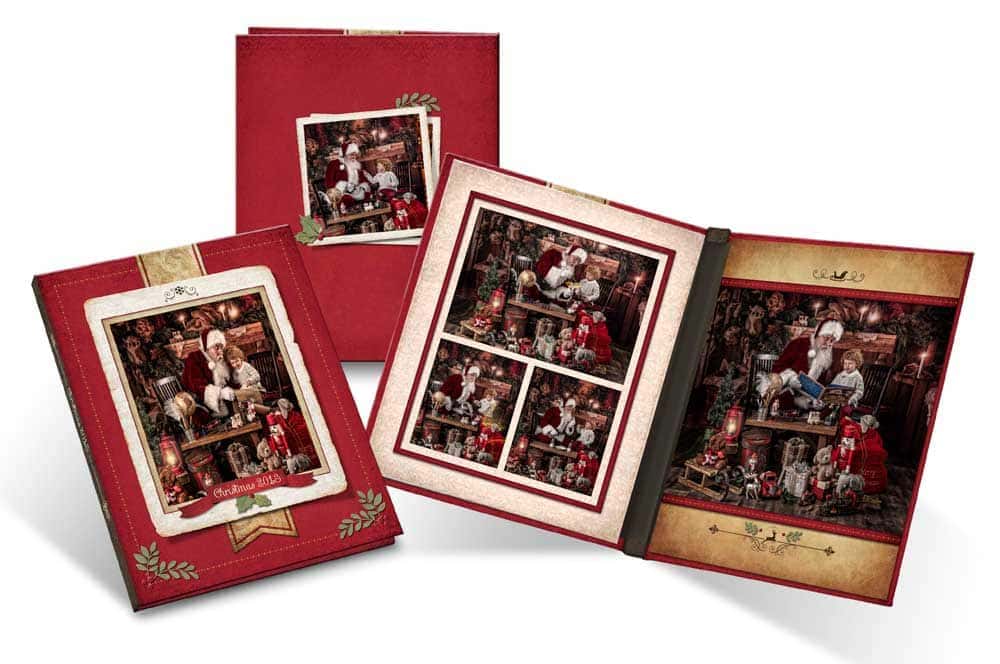 Image Folios are the ideal tabletop product for you to display their favorite images.
Image Folios lay flat like a closed book, and unfold upright to display on a flat surface, revealing two side by side images.
You can display Image Folios on any table, shelf, dresser, mantle, or desktop surface.
They're great for the office or as gifts for family members.
Gift Items
 20% OFF with Wall Portrait or Album Purchase
8×10 print  $95
5×7 print  $75
8-Wallets prints  $65
Accordion Books (3) $175
5×10 Framed Story Book Page $175
10×20 Framed Story Book Page $395
Metal or Porcelain Ornament $65
Hi-res image file $125 ea.
5×7 Folded (2 images)
25 for $175 | 50 for 295 | extra 25 for $95
5×7 Flat (1 image)
25 for $150 | 50 for $250 | extra 25 for $75
Cards are printed on thick watercolor paper and include envelopes.
With your paid order, these items are complimentary.
order of $500  8 wallets gift
$1000  2 5×7 Gift Prints
$1500  3 Accordion Books
$2000  2 8×10 Gift Prints
$2500  25 Christmas Cards
$3000  3 Metal Photo Ornament
$3500 Crystal USB Slideshow Experience
60-inch
40-inch
30-inch
24-inch
20-inch
14-inch
$1390
$1090
$690
$490
$390
$290
$1590
$1490
$1090
$890
$790
$590
Fine Art Santa portraits are hand-finished digital art pieces.
We have carefully blended our finish to be unique and enhance the story of the magic of Santa.
Storyline special effects are added to the finished image that is certain to exceed your expectations.
Canvas – Choose our artist's canvas mounted on masonite or choose a more contemporary gallery wrap finish.
Classic – Photographic paper with your choice of lustre or metallic is printed for archival quality and mounted on a sturdy artboard for durability.
Choose a single image or a collage of four images.
Your choice of Framed or Gallery wrapped canvas
16×20(4 images) $825
16×20 (single image) $790
20×20 $790
20×24  $890
24×36 $1190